Intriguing Ladybug Stories
Are you a believer?
McKenzie celebrated her second Halloween dressed up as an adorable ladybug.  She was as cute as a bug and everybody who saw her smiled.  Little did we realize how much significance this costume would be at some point in the future.  A simple ladybug costume has proven to be a vehicle for God and Mackie to reach out to us and say, "I love you and everything is great!"


Beginning in the Spring of 2009 and throughout the summer, Lisa and I saw many lady bugs.  We began to remember Mackie in her costume each time we saw one of our colorful friends!  However, it was in the Fall when the lady bug stories truly began to occur. Below are accounts about how ladybugs touched the lives of various friends and family members.
A family friend...
Dear friends of ours have a daughter who needed a hemispherectomy. She will warm your heart as soon as you meet her and she will light up any room she enters. Here is their ladybug story...

As a result of the hemispherectomy surgery, Ava has vision and fine motor deficits. One day at vision therapy, they wanted her to pick up buttons using a pair of tweezers. She was really struggling with it. One of the buttons was in the shape of a ladybug. As I watched her getting frustrated trying to pick up the ladybug, something made me say a little prayer to Mackie to help her. I just thought to myself, hey Mackie help her out, and as soon as I did that she got it. I thought ok, I think Mackie may have really helped her. We wrapped up the appointment and as we were walking to the car, Ava's nurse leaned over to me and said there is a ladybug in your hair. I literally stopped right there and said I think something just happened. I could have easily chalked up the prayer to coincidence, but walking outside and finding the ladybug on me after saying the prayer is when I knew it was more than just a coincidence.
A family friend...
My entire family was at the beach for a week of vacation at the Outer Banks last week. As we were sitting on the beach, my sister Chris and my niece Carly saw a little girl that reminded them of Mack. They began to discuss how they haven't seen a Lady Bug in a while… Next thing you know, a Lady Bug landed on my nephew Travis's arm. Mack just wanted to say hi and let us know she will never leave us…. We will always love Mack and Lady Bugs!


John Dalton...
I read all the ladybug stories this morning and ironically when Emma woke up today... my wife said "Hey there ladybug"... as she was wearing her ladybug PJ's!
John Dalton...
I read all the ladybug stories this morning and ironically when Emma woke up today... my wife said "Hey there ladybug"... as she was wearing her ladybug PJ's!
Smeeta Gale...
Hope the rest of your day went well. So I thought of you tonight, and the weirdest thing happened. I was thinking of our conversation on Monday night and went to check out the Mackmadness website. Now we do get a few ladybugs in our house, but right as I went to the website I saw something flying around and it was a ladybug. Like I said, we do get the occasional ladybug in our house, but I haven't seen one all night and it was so weird that I noticed one flying around right as I opened the website.


Alyssa Weaver - Tierlynn's story...
All of my life I have had a big heart for people in general who have a disability, disease, or are just ill in any type of way and always knew that I wanted to make a difference and help those people. Because of this passion I became a CNA (certified nursing assistant) and also enrolled in College majoring in medical, which I am currently in my third year of. Through the years of working in the hospital and learning more and more about the medical through many programs the one thing I always took to heart was not only how that sick or disabled child suffered but how the family suffered as well. I couldn't begin to imagine how the mother of that child lying in the hospital bed felt and even more how she held herself together so well in such a time. And to top it all off I never in a million years thought I would know how that mother felt or how she did it. In June of 2011, I received news that broke my heart in less than seconds and hit me like a freight train. My daughter, that I was approx. five months pregnant with, was going to be born with a disability called club foot. I was going to be that mother sitting beside the hospital bed. I was going to have to watch my child suffer through the treatments needed to correct this. Could I hold myself together as well as the mothers I had seen at the hospital? I wasn't so sure. One thing was for sure to me that night of getting the terrible news, my baby had an angel. As I sat on the back porch trying to collect all of my thoughts about what I was just told, my son was playing in the sprinkler with my younger sister. He yelled to me to tell me there was a bug on his sprinkler. As I walked over I realized it was a ladybug. It was only a short time before this that I had heard of a beautiful little girl, Mack, who lost her battle to leukemia. In the story they mentioned how she was a ladybug for Halloween and how sightings by her family of ladybugs have happened when they needed Mack the most. I kind of thought it may just be my mind over thinking things so I scooped up the little bug and placed it on a piece of grass nearby. Ironically, the Schneiders (Mack's family) were coming to pick up my little sister at my house to hang out with their daughter (Mack's sister). That next weekend I attended a yard sale near my fiancés grandmothers home. As we walked the sidewalk searching for nice baby things for sale I stopped abruptly as we came up to this big white house. In their front yard they had an entire ladybug nursery set for sale. I had to have it. It was another sign from Mack and this time I was for sure of it! I bought it immediately! Throughout the entire pregnancy, every time I had a moment of weakness, a ladybug would appear. It never failed.
Clubfoot is not as severe as other diseases and disabilities that many children are born with. It is not life threatening and can be corrected over time, but none the less, it was a disability, and my daughter was born with it. Here is her story.
Tierlynn Jo was born on Spetmeber 17, 2011 at 4:36 pm. She was five weeks early and spent one night in the NICU for observation but returned to my hospital room the very next morning. Shortly after delivery, she was whisked away to the NICU and I was very upset not knowing how she was doing. My personal belongings were given to me in a bag and the bag was covered with a design of ladybugs. I knew everything was okay. She was beautiful, healthy and had no other medical problems besides the clubfoot. She was seen within two weeks of age by an amazing doctor, Dr. Granger. Dr. Granger assured me that Tierlynn's feet would be perfect within time and that I needed to just trust him and work with him to get her the help she needed. I jumped on board with his decision and took it day by day. The first step was to cast Tierlynn's legs from the thigh to the toes. These casts would be changed and repositioned once a week for six weeks. The day of Tierlynn's first casting I was a nervous wreck! She was two weeks old and so tiny! I went outside and sat down on the chair on the porch and took a deep breath. I looked up at the fall sky asking god, "why her?" As I began to tear up I looked down at the ground and was suddenly hit in the cheek with something. Startled, I jumped and looked around me, only to find a lady bug on the top of my shoe. The ladybug is what hit me on the cheek as tears streamed down my face. I instantly knew it was Mack. It was her way of telling me that Tierlynn was going to be OK and that she would watch over her. I looked up at the sky once again and silently said "thank you Mack."
Tierlynn's casting went great and she even got to skip a week because her feet had such great progress! Simple things such as finding clothes to wear over casts, changing her diaper, giving her baths, were all a challenge but we got through it. The next step was to put special shoes on her that had a six inch bar in between, which she was required to wear for twenty three hours a day. Yes, twenty three, while asleep and all! This was very hard, especially because she got upset that she couldn't move her legs around freely. Everything was going ok and she was making great progress until January of 2012. Dr. Granger did x-rays of her feet and noticed that her Achilles tendon was too short and that without releasing it, her feet would never be permantly straight. He had to perform surgery. The surgery was minor, but as a mother, surgery is surgery! Tierlynn had the surgery in January and was once again casted for three weeks. During prep for surgery a nurse from the OR came out with a little hat for Tierlynn to wear during her surgery. The hat had ladybugs on it. Mack was once again, with Tierlynn. It gave me a sense of security knowing Mack would not let anything happen to my baby girl. As promised, by Mack, surgery went great! My little girl was such a trooper after surgery, smiling and laughing and just being her normal self! Nothing could bring her down. Three weeks after surgery she had to be put back in the shoes for another month. She did not like this too much but we managed to, again, get through it. Just recently (March 2012) Tierlynn was able to hit another milestone with her Clubfoot and only wear the shoes at night time! Her little tiny feet are perfectly straight and have no signs that there was ever anything wrong! The thing that is still in my mind and makes me realize we truly do have angels, is that the day Tierlynn was released from the shoes for majority of the day, was the anniversary of the day of Mack's passing. It was just another sign from the most amazing angel, that I never even had the chance to meet.
At Christmas time this year (Tierlynn's first Christmas) we went to a children's party at the local VFW. Each child received a gift and when we opened Tierlynn's it was a light up ladybug. I looked around the room and she seemed to be the only child to receive this gift. Many times when Tierlynn is at my mother's house and she goes to lay her down or get her up, she finds a ladybug on the blinds by the crib. There is no doubt in my mind that Mack is and always will be watching over my little Tierlynn. Thanks Mack! Love, Alyssa
Christina Anniston...
I had an incredible thing happen last night...the little girl who won the lesson auction at Mac Madness had her first lesson last night. After I put her on the pony we were just walking around and I noticed something on her saddle pad, so I glanced down. It was a bright red lady bug! The lady bug rode with us the whole lesson and then right after Lexi got off the lady bug flew to my shoulder sat for a few seconds and then flew off. It gave me goosebumps! It brought tears to my eyes, it felt like a thank you almost.
This is the only lady bug I have seen at my farm all year. It was such an amazing feeling, just wanted to let you know!

Meredith Strayer...
Last month I was driving on the Schuylkill Expressway heading into Philadelphia. I was listening to a podcast on my ipod. The commentators were discussing a memoir about grieving that I have been wanting to read by Meghan O'Rourke called The Long Goodbye.
As I was listening about how this book discusses grieving in America, I couldn't help but think of Mack. Thinking about how the Schneider Family have been so open, approachable, poised and graceful in dealing with their terrible loss. I was reflecting on how Ed and Lisa have taken some of their grief and turned it into something as amazing as Mack Madness. I was picturing Mack & how sweet and beautiful she was.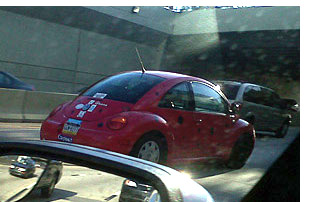 It was just at this moment that the traffic from 76 was merging with 676 (For all those who are familiar with the Schuylkill, it's just a free for all). As I was merging onto 676, listening to this podcast and thinking these things, when out of nowhere came a VW Beetle painted as a ladybug!! I couldn't believe it! I have never seen a car painted like a ladybug before.
I was sure it was Mack letting me know she was there. I immediately called Ed and Lisa to tell them my story. As I spoke to Ed, I continued to see the ladybug car behind me weaving in and out of traffic. After Ed and I talked, I am sure that Mack was reaching out to me to call Ed and Lisa. She knew that they needed her that day…to feel her presence. I am sure many don't believe the in the significance of the ladybug stories, but I have always believed in my heart that this is how Mack reveals herself to us. I had to show everyone what I had seen…so I took a picture of the ladybug car as I got off my exit. Please see the picture for my proof. I risked life and limb to take it!


Rusty Michael - a co-worker...
Great to see you last week. I am attaching the picture from when Riley was in the NICU at 3 days old and then one from her 1st birthday. Below is a little of our story...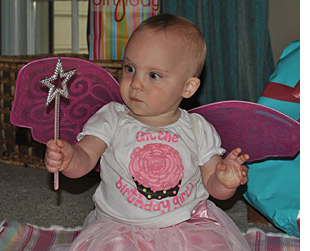 Ed and I work together and met in person for the first time in February of 2010. We had talked on the phone several times prior to this meeting we were at, yet never met. My mother had just passed away in December 2009 and my wife and I were expecting our 1st child. One night at dinner, Ed shared with me his family's story and about Mack. He shared with me about the ladybug. Ed shared with me about how everyone was seeing ladybugs in peculiar places that we normally do not see them and showing up when people needed a pick me up. I knew that this was God using Mack to tell people it was going to be ok. Little did I know that God would be using Mack and the ladybugs to impact my life a month later. After I returned home, I told my wife about Mack and how it had just stuck with me. I told my wife how I looked forward to seeing ladybug sometime soon.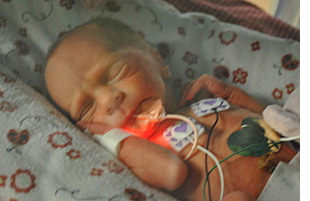 Riley was born on March 22, 2010 at 12:18. She weighed 2 lbs 12 oz and was 15 inches long. She was 9 weeks early. Riley would spend her first 5 weeks in the NICU and Progressive care. She has been a fighter her entire short life and is growing and doing great. Today, she is 20 lbs and a non-stop motion.
As my wife and I were looking through pictures from when she was first born, we saw this picture of her when she was 3 days old and weighed about 2 lbs 12 oz. I had not noticed it while we were at the NICU. In the NICU, they provide bedding that has been donated for the incubators, so you never know what you are going to get. As we looked at the picture, I just started to cry as I saw the ladybugs on the bedding. Even in a place where ladybugs would not be able to get God showed me that everything would be ok. As we journeyed through the next 5 weeks we would not face many bad days, mostly just seeing Riley growing and getting stronger. We feel so blessed to have Riley. Without even realizing it at the time, God touched Riley through Mack and the Ladybugs and looking back showed our family that she is going to be OK.
Thanks for sharing Mack's story with me Ed. It has helped us through some tough times.


Mary - a family friend...
As a freind of the Schneider family, I wanted to share my ladybug experience this week. I usually go to the cemetery on holidays and other occassions to visit my father who passed away a number of years ago. I have added to my visits a stop to say "hi" to Mack. Yesterday, I placed a wreath on my Dad's grave and a flower on Mack's site. I also admired the ladybug on here plaque this year and it is beautiful.This morning I started the day with my normal routine at home and who appears on my back door curtain but a lady bug! She will forever be with us each day!!


John - a family friend...
I'm writing to share a Ladybug Moment that I shared with my daughter Marissa earlier today. We were standing in our kitchen this morning trying to plan our day. We knew that we wanted to attend the Mack Madness Dine Out but just couldn't figure out how we would squeeze it into a day already filled with 12:15 Mass, YC try-outs, hoops practice at St Joe's, chores, grocery shopping... you get the idea. We were about to resign ourselves to the inevitable "we'll just have to wait until next year" conclusion when Marissa exclaimed, "look, above the sink... a ladybug!" We looked at each other and, recalling the inspiring testimonials we read at Mack's website, knew immediately where we'd be eating dinner. We then ran upstairs to share our very cool experience with the rest of the family. Our youngest, Kara, was a bit skeptical and went to the kitchen to see for herself, only to find no ladybug. Marissa and I smiled at each other, knowing the ladybug was on the way to her next destination.
Needless to say, we enjoyed some great family time, and had a nice conversation with Mack's big sister Bria and her dad, Coach Schneider.


Travis Marks - Mack's cousin...
Currently I'm taking a speech class at Penn State Altoona and I have to write a "tribute" speech about someone I know. I was thinking and what came to my mind was my cousin and Goddaughter, McKenzie. On November 10th, 2010 I came home from class and went to my room and sat down at my desk to start working on my speech. As I was working on the speech, I looked and on my window was a ladybug! The emotion ran through me, and I found this ironic situation so comforting. She was with me, I couldn't believe it! Their is no dought in my mind that Mackie is up their now looking down on us all. I sat their and embraced how much power Mackie has. Even though she is not here with us now, she is with us in spirit. These occurrences are living proof and I thank God for that!


Mack's Great Aunt...
My Aunt Deanna was admitted to the York Hospital for a few tests. A hopeful short stay turned into 8 long days. On the third day her spirits needed a lift. She was hoping to get out of the hospital and go home but unfortunately it wasn't looking to promising. As she lay in her bed, a ladybug appeared in her room! All the windows were closed so she couldn't figure out how the ladybug got in her room. Tears began to flow as she thought of Mack. She said to Mack, "With everything you went through, this is a piece of cake for you Great Aunt Deanna." Though she was in the hospital for a few more days, God and Mack lifted her spirits for the remainder of her stay!


Best buddy Leah...
Mackie's best friend was Leah. They enjoyed playing together and they went to preschool together. Leah wondered where Mack was and would often ask her mom about it. Kirsta responded by explaining to little Leah that Mack was in heaven. I called Krista in February to talk to her about Mack Madness 2010. During our conversation, I shared the latest ladybug stories with her. Well, Krista had good story for me! On Leah's birthday, February 25th, a ladybug showed up in their house despite the cold and snowy winter. It was the only ladybug they found in their house all winter. What a great birthday present for Leah but also a beautiful present for all of us!

Daddy on Mackie's birthday...
I went to visit Mack on her birthday. In my prayer, I told Mack I could really use a ladybug to help me get through a tough time. I spent 15 minutes with her and then returned home. I received a sweet surprise when I opened my mailbox to get the mail. Earlier, McKenzie's best friend Leah stopped by to drop off a little present. Inside the mailbox was a ladybug Leah made for us at school. It hangs on our refrigerator as a constant reminder that Mack is with us. Yes, I did get my ladybug on Mack's birthday!!

Mommy and Daddy...
The evening before leaving for the annual family beach vacation, Lisa and I were swimming while talking about McKenzie. We both were commenting how much we missed her and that the "family" vacation just isn't the same when you are missing a very loved part of the family. Lisa spotted something red floating on the water and you guessed right, it was a ladybug. We both were amazed at the timing of finding a ladybug in our pool. Mack enjoyed swimming in the pool very much.

Family Vacation...
The entire family was wondering if Mack was going to show up at our beach house in the Outer Banks. When we arrived, Mackie's cousins went to their usual bedroom to unpack and the kids noticed all of the beds had new bedspreads on them. Of course the "kids" room had ladybug bedspreads! Later in the week, the adults and children sat down to play a dice game called LCR. Bria wanted to include Mack in the game and she would roll for her etc. LCR is purely a luck game and out of about 14 of us playing, can you guess who won that round of LCR? It came down to Bria and Mack. Bria had two chips left and the only way Mack could win is if Bria rolled an "R" for right and "C" for center. Well, it happened, and we all sat there with goose bumps and tears in our eyes. Bria decided to donate the money Mack won to Mack Madness 2011! We're off to a great start!

Lisa and I decided to go home a day early from the beach. When we arrived, I opened the door to let our dog outside and a ladybug flew inside our house. The amazing thing is that we arrived home after midnight which made it Father's Day. Yes, Mack was wishing me a Happy Father's day!  

Bria and Mack Madness 2010...
Mack Madness 2010 was a tremendous success. Before the day's activities started, our group gathered together for a prayer led by Fr. Mike. As Bria was coming to join the group, a ladybug landed on her to say hello. Mack was with us during the prayer and for the entire day! All of us just laughed because we were wondering when Mackie was going to say hello! Lisa's sister came in from out of town that day and spent the night with us. The next morning we all came down for breakfast and we were telling her kids about the past ladybug sightings When Lauren looked up at our ceiling in the kitchen, a ladybug was looking back at us. Thanks Mack! 

Mrs. Bair...
Mrs. Bair is the preschool teacher at St. Joseph's School. She was Eddie and Bria's teacher when they were 4 years old which happened to be the year that Lisa was pregnant with McKenzie. Mackie was born just a few weeks before preschool was over for the year. As the school year went by, Lisa would chat with Mrs. Bair about Mack and her health issues etc. It is not really surprising that Mrs. Bair got a ladybug of her own. One day she was busy working at her computer looking over her "April" lesson plan when she received the "In the Loop" e-mail that comes out on a weekly basis. She decided to read the e-mail and noticed the announcement and link for Mack Madness. When she clicked on the link it took her to the Mack Madness website. She immediately went to the ladybug page and began reading all the great stories. When she finished up reading all the stories, she closed our website and went back to her lesson plan. By itself, the lesson plan had moved from April to May and in the center of her computer screen read "Ladybug Fun!" She Believes!! 

High School Friend...
Close friends of ours recently lost their son Joey in a tragic accident. I remember getting the call the night he passed away. I lay awake that night thinking about them and wondering how Lisa and I could help. It rained that night and we received over 5 inches of rain. As I looked outside the next morning, I realized I needed to go lower the water level in our pool. As I stood by the pool, I said to myself, God and Mack, I need to give John and Deb a call to let them know Lisa and I are there for them. As I was wondering when the appropriate time would be to call them a ladybug landed on my left hand. I looked up to heaven and said thanks God and Mack, I'll give them a call today to let them know we are there for them.

Music of Danny Gokey...
Danny Gokey, who became popular from appearing on American Idol, performed at my annual sales meeting in Florida. His music is very spiritual and truly inspirational. He gave every person at the conference a copy of his new CD. After returning home, I decided to listen to his CD while I was outside. The third song was playing as I was working on the pool. It has a very clear message. We shouldn't need to see a man walk on water to believe. As I looked into the pool, there was a ladybug taking a dip. Once again, the timing is truly amazing!

Deep Creek Lake...
Our annual vacation to Deep Creek Lake in August 2010 rolled around quickly and once again we were all wondering if Mack would show up. It's her Daddy's favorite vacation! On Tuesday afternoon we were on a boat cruise and I thought about Mackie with tears in my eyes as I listened to a song from Danny Gokey. The very next day a ladybug was on our dining room ceiling looking down on all of us. Yes, Mack wanted to let all of us know she was with us!

Uncle Marty...
Mack's Uncle Marty was visiting us on a cold October night.  When he opened the back door to leave, a ladybug flew into the house and landed on our kitchen table.  We thought it was unusual to see a ladybug at that time of the year. We viewed it as a sign and with a smile said, "Hi, Mack!"  We thanked God for sending us a sign to assure us that Mack was doing just fine. 

Mommy and Daddy...
In mid November, I went outside to move my car.  We don't drive this car often and always keep the car locked with the windows up.  When I opened the door and sat inside, I noticed a ladybug on the inside of the car window.  Once again, I thought it was very unusual and said "Hi Mack."  Things were starting to get interesting.

Poker Club...
In mid December, a ladybug visited us in the basement of Uncle Rick's house on a very windy and cold night.  Just as all of the poker boys sat down to play cards, a ladybug landed in the middle of the card table.  I explained about all of the lady bug friends we have seen and everyone said "Hi Mack, love ya." It was all starting to make sense.

Lisa Johanning...
We originally met Lisa Johanning at my cousin's wedding.  At the reception, we noticed that her child was a beautiful little boy with Down Syndrome.  We quickly became friends with Lisa and her husband.  We invited her family to visit us at our home so Lisa's son Alex could meet Mackie.  The children enjoyed playing with each other and they became "buddies."  During a phone conversation in January, I explained to Lisa about all of the ladybug stories.   Lisa was amazed to hear this because she also had an unusual ladybug experience.   She explained that during her family's beach vacation this past summer, several lady bugs would land on Alex everyday when he was playing on the beach.  They would stay around him all day and never land on anyone else.  She said that it became a topic of conversation for the family all week long because they thought it was so unusual. A few months later in September, Lisa was cleaning Alex's bedroom and what do you think she found?  Of course, two ladybugs only in Alex's room!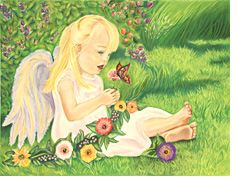 Cousin Lyndsay…
McKenzie's Aunt Steph bought a picture frame to display a copy of a beautiful painting of McKenzie portrayed as an angel in heaven. This frame held two pictures.  The second photo that Steph displayed was a picture of all the families that make up the Schneider clan. Written on the frame was a heart warming verse about love and family.  In early January, Steph gave the frame to her daughter Lyndsay as a present. As soon as Lyndsay put the frame on the dresser in her bedroom, a ladybug friend landed right on Mack's picture!  Can you feel the goose bumps? 

Aunt Jen...
In the beginning of February, the whole family knew it was going to be a difficult month.  One day, when my sister Jen was having a tough day, she called me to say hello.  To help cheer her up, I reminded her of the ladybug visits. Two hours later, my phone rang.  It was Aunt Jenny telling me that she just saw two ladybugs in her family room.  Are you starting to believe?

Aunt Chris...
Mackie's Aunt Chris was never lucky enough to have her own ladybug sighting.  Although her faith is remarkably strong, she was a little skeptical of the meaning behind the ladybug visits.   She said that she had seen ladybugs in the house in the past during winter.  However, she was hoping to see something this year other than just stink bugs!  God and Mack finally sent her a message.  After the February 9th snowstorm, Chris was helping a friend to shovel the deep snow.  When she was about to tackle a huge snowdrift with her shovel, she noticed a ladybug on top of the snow.   She looked closer at it and realized that it was still alive.  Now, the sight of a ladybug outside after a blizzard turned Aunt Chrissy into a believer!

Neighborhood friends...
On a Friday night during one of the February snow storms, a few of our neighborhood friends decided to surprise us by dropping by our house for a visit.  We were catching up and I decided to share the ladybug stories with them.  All of them believed the little creatures were sending special messages.  Two weeks later, I received a heartwarming e-mail from Eric and Nancy who were part of the neighborhood group that visited us. They explained that they just found a lady bug hanging out in their garden tub.  It made their day and the e-mail Eric sent us definitely made our day!

Kim Alloway...
One of McKenzie's therapists who became our good friend called us to see how we were doing during the difficult last week of February.  Of course, I shared the ladybug stories with her.  Again, the response that I heard was amazing.  She explained that recently she had a dream about Mack Madness 2010.  The next morning after the dream she came downstairs and found her dog playing with something on the floor.  When she went over to see what it was, she realized that it was not a stink bug as she expected.  It was a ladybug and her dog did not eat it as he had a habit of doing with the stink bugs!

Grandma...
Lisa's mom heard about all of the ladybug stories and she had her own interesting experience.  She said that during the fall, in October, she went out to lunch with a group of girlfriends.  Ironically, the name of the restaurant was "The Ladybug."  After they ate, Grandma went to the restaurant's gift store to browse around and casually shop.  She explained that she had a very strong urge to buy a necklace with a ladybug pendant on it.  She gave in to the impulse and bought it.  She had no idea why she was moved to buy it and was surprised that she did it.  We laughed when we heard this story because we know that it is very unusual for her to buy things that she really does not need.  Now Grandma knows what moved her so much to buy the ladybug necklace!  

Aunt Steph... 
McKenzie's Aunt Steph and Uncle Tim were watching the unusual movie "Seven Pounds" at their house.  In the story, the leading actor is Will Smith who donated his heart to a friend who was in desperate need of a heart transplant. As Steph and Tim were watching the movie, a ladybug lands on the television screen just when the heart of Smith's friend starts to beat and the audience knows that the heart surgery was a success!  There is a lot of symbolism in this ladybug story.  First, Mackie herself had open heart surgery.  Also, the movie was about Will Smith dedicating his life to help others and he continued to help after his death by donating his eyes and heart to his two friends.  We feel this story reflects the meaning of Mack Madness.  Because the proceeds from Mack Madness are donated to different charities, Mackie is continuing to touch many people's lives by helping them in different  ways.  The generosity of many supporters and the huge amount of help from many family and friends is what makes Mack Madness a success!


Tom Brennan... 
"Ed, I just read your interesting story this morning at work behind the Ladybug theory. I had my doubts just like your sister Chris, but I enjoyed reading the unique experiences everyone was having with the ladybugs.


You will not believe this but I was going to tell my wife Steph, Riley and the rest of the kids when I got home from work to be on the look out for Mackie and the ladybugs. When I returned from lunch to my office which looks out towards the inner harbor and the Domino Sugar plant in Baltimore, I glanced out the window on such a wonderful day and what did I see... a ladybug 11 floors up. Crazy! The timing is truly amazing! I'm a believer!"

Cathon Threat... 
After you and I spoke about Mack and the Ladybug visits many of your friends and family have experienced, you suggested I visit the Mack Madness website to read some of the stories myself. I said I would and went to my room. Right before I got the chance to visit the website, I remembered I needed to call home. My six year old daughter got on the phone and I asked her how her day had gone. The first words out of her mouth were, "Mom, the ladybugs are growing." I could not believe my ears. I asked her to repeat herself and she said, "The ladybugs are growing!" I had goose bumps all over my arms and thought the power of God is incredible. I immediately went to the website and was overjoyed while reading the stories on the site. Although I was never blessed with the opportunity to personally meet Mack, we have worked together for 10 years and when I heard about Mack's passing, my heart went out to you and your family and you guys have been in my thoughts and prayers. From this day forward, I will look at Ladybugs in a totally different way.

Ted Koncsol... 
After visiting your home in February, and you relating to me the ladybug stories, I happened to have one of my own. My boy, Keegan, was nagging to go to the park back in March when the weather was really nice. So we headed to Cousler. We stopped by the rope climber and the big rock for him to play on. Then he wanted to swing so up the hill to the play area we went. So, I'm watching him and he's having a blast running like a maniac. I hear a couple of the mom's around saying, "Look at the ladybugs!" They were over by the older kids playset. Keegan was going down the slide, and he stopped because one was there and picked it up. I didn't put two and two together yet. I went over to the bench and there are the trees and benches with the plaques for Mack. Then I knew what was happening. I said, "Hi Mack". I guess she's watching over that play area.

Diana Young... 
I was in Johnstown yesterday for my uncle's funeral. Afterward at my aunt's house, we were all sitting around the table talking, and I told some people about Mack Madness and the Ladybug tab, but not all of my cousins were in that conversation so I was thinking about it this AM and decided I would send them all an email with a link to Mack Madness so they could check it out. I thought I'd tell them that Mack speaks to people through ladybugs, my dad speaks to me through pennies and someday their dad will speak to them in a way that is special to them. Then I looked out the bathroom window and there was a ladybug just sitting on a leaf of the tree outside the window!!!! I could not believe I picked out this tiny little ladybug in all those leaves!! I even called Megan over to look at it.
I'm so happy that I have a Ladybug story now!!!!


We think of Mack every single day and we miss her immensely.  We are sharing the ladybug stories hoping that it will provide comfort and answers to some of life's most difficult questions.  May it strengthen the faith of those who read it.  God and Mack will continue to touch our lives and we thank God for "ladybugs!" 
Facebook!
---
Testimonials
"What an unexpectedly terrific day we had last year at Mack Madness! We were planning on just stopping in for a few hours and ended up staying the entire day!! My younger children, Amelia and Luke had a great time playing with so many kids at all the activities and games. They especially loved the dunk tank! My teenager, Ethan and his friends had fun hanging out, playing football and listening to the band. Dave enjoyed an easy day of friend's company and good food and drink. He felt like he was tailgating for a Jimmy Buffet concert! There were so many great items to bid on at the silent auction, we had a tough time choosing what we really wanted to go after and win. It was such a wonderful way to celebrate Mack's life…with friendship and laughter…we look forward to attending every year! "Meredith Strayer
Mack Madness 2016...